Armenia and Nagorno Karabakh      
By Rich Juro
      After the trip to Lebanon and Syria, our new friends, the Krans, told us they were going to Armenia. Walter Kran is 100% Armenian, so that made sense for he and his wife, Lisa, to go with the Armenian-American Assembly to the land of his heritage. Of course, Fran and I said: "Can we go with you?"
Walt said: "Sure, just join the Armenian American Assembly."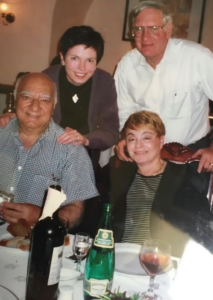 So we paid $100 to join, plus the cost of the trip, and soon found ourselves flying to Yerevan, the capital of Armenia. What follows is what we learned about this interesting country, and the semi-autonomous republic of Nagorno-Karabakh.
      Genesis, the first book of the Bible, talks about Mount Ararat where Noah landed his ark with two of every creature after the great flood. Mt. Ararat is near Yerevan, the capital of Armenia; on a clear day, you can see it. Unfortunately,  the mountain is located in Turkey now. The Christian Bible mentions Armenia several times, probably a transformed word from Ararat. So you can see why the Armenians want Mt. Ararat back in their country.
    The Kingdom of Armenia reached its zenith over 2000 years ago. It was the most powerful nation in this area east of the Roman Empire.  The Armenians are proud that their ancestors became the first Christian nation in 301 CE. According to legend, St. Gregory the Illuminator, a devout Christian, was locked in a terrible prison for 13 years. The King of  Armenia, Tiridates, suffered from lycanthropy, an unusual  psychiatric disorder. The monarch believed himself to be a wolf, or maybe even a werewolf. The king's sister heard about Gregory's knowledge, and summoned him to help the king. Gregory cured King Tiridates, and the king was so grateful that he converted Armenia into the first Christian country. Gregory was appointed bishop to spread the Word. Not only was Armenia a strong nation 2000 years ago, but it adopted its own alphabet in 405 CE, which it still uses today.   

     Armenia is located in the Caucasus, kind of between southeast Europe and western Asia, but it has always identified with Europe. Eventually, Armenia because of its geography, became subject on and off to the major empires of the day: Byzantines, Sassanian, Seljuk Turks, Mongols, Persians, Ottoman Turks,  and the Russian Empire. But the Armenians kept their Eastern Orthodox faith, and reportedly still is the most religious Christian nation. Yet there is freedom of religion, and there are practicing groups of Muslims, Jews, Yazadis, Bahai, Zoroastrians, and others. More on the Jews later.
     During World War I, the Ottoman Empire worried that the Armenians would support their fellow Orthodox Christians, the Russians. Starting in 1915, the Turks subjected the Armenians under their control to a forced deportation; but the Turks deprived them of food and water, and the Armenians were raped, robbed, and massacred. There were 1,000,000 to 1,500,000 Armenians that died. It was the first genocide of the 20th Century. Turkey still officially denies it.

      After WWI, the Republic of Armenia was established, but several years later it became the Armenian Soviet Socialist Republic. It was under the complete domination of the Soviet Union for 70 years.  In 1991, as the USSR broke up, many new independent nations were set up from former satellites, including the new Republic of Armenia. Soon after, Armenia and its neighbor Azerbaijan, started a shooting war over some land that Armenians that were living in Azerbaijan. Every few years the dispute flairs up, the military of both nations fire weapons, and people are killed.
     Now Armenia is a small, mountainous, landlocked country. It has about 3 million people. Like many nations, it doesn't get along with its neighbors. To the west is Turkey, its ancient enemy, the committer of the genocide and holder of Mt. Ararat; Georgia, to the north, which the Armenians consider full of smugglers and thugs (even though Georgians practice the same Orthodox Christianity); to the east, Azerbaijan, which is Moslem and a constant war opponent; and Iran to the south. Armenia seems to get along best with Iran, but does so surreptitiously. Armenians know they depend on the USA and Armenian-Americans for aid, and don't want to jeopardize the friendship of Americans by appearing too friendly with Iran.
     Armenia is a quite poor country because of its landlocked location and topography. Even worse, in 1988, a huge earthquake in Armenia killed 25,000 people. The country is still rebuilding from the massive destruction. When we were there, and probably now, there may be more Armenians working in Russia than in Armenia.

     The hotel in Yerevan was pretty nice. The management was trying to upgrade it so it would qualify for a Marriott, and eventually it was. The hotel was ideally located in the main square of Yerevan. Unfortunately, all the streets were being repaired. Our friend, Lisa Kran, was a marathon runner, but the streets being torn up prevented her from running. The street fix was being paid for by the MGM magnate and man of Armenian descent, Kirk Kerkorian. 
     If you see a last name ending in "ian" or "yan", like Kerkorian, chances are excellent that the person's ancestry is Armenian. Examples are the writer William Saroyan, his kids Aram and Lucy Saroyan, the Russian composer Aram Khachaturian, and Cher (born Cherilyn Sarkisian), the reality TV star Kim Kardashian, and her infamous family. Others Armenian-Americans who have changed their name include tennis star Andre Agassi (his father changed it from Agassian) and our friend, Dr. Walter Kran, who changed it from Krikorian.
     Being part of the American Armenian Assembly group had its benefits. 
     We met with the Armenian President at the Government offices. That would have been really interesting but the President spoke with the group in Armenian.  That left Fran and I and Lisa Kran, and a couple of other non-Armenian spouses, to talk with the other government officials, but those officials didn't speak English.
     We also met with the head of the Armenian Orthodox Church. He had a full beard, flowing black robes, and very impressive Christian jewelry. "Orthodox" translates from its original Greek to "right thinking". He is called a Metropolitan, which I haven't figured out why to this day. Other heads of Eastern Orthodox Churches are independent of each other. They are called Patriarchs, Catholicos, Archbishops, Metropolitans, or even Popes, depending on which country or area. There are over 200 million Eastern Orthodox adherents in every part of the globe, but less than 3 million in Armenia.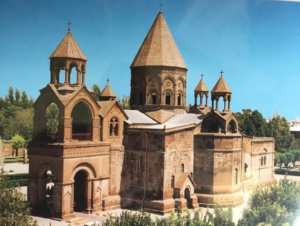 They took us to view and explore ancient churches, monasteries, and other impressive structures in and outside Yerevan. The destruction caused by the earthquake was still to be seen. And, forlornly for the Armenians, we could look at Mt. Ararat on the horizon. 
     We had a few hours to ourselves one day and went to visit the Jewish Community Center in Yerevan. Accompanying us was Lily, one of the spouses of the Armenian-American men. She had been born Jewish, but had never practiced Judaism. Still, Lily was curious about her birth religion as practiced here. The JCC was two large rooms in an old government building. The head of the JCC was Aram. He was a chemist for his  regular job. He showed us around. 

     Aram said: "We don't have a rabbi, but have Sabbath services. Someone gives Hebrew lessons  so young people can have their Bar and Bat Mitzvahs. But there are not many Jews, maybe 500, left in Yerevan."
     Before independence, there were several thousand Jews in Armenia. Because of the very poor economic conditions, most have emigrated to Israel. Others work in Russia. We left a nice donation.
     A Chabad was also established several years ago. We called and made an appointment. A caretaker showed us around the small building. That night we got a phone call from the rabbi asking us if we'd like to return. It seemed to us that the Chabad rabbi heard about the American tourists and was probably  looking for a significant donation. We didn't go back.
Nagorno-Karabakh
     When Armenia and Azerbaijan Soviet Socialist Republics got their independence from the USSR in 1991, they soon started a war over areas that Armenians were living in Azerbaijan. The region is called Nagorno-Karabakh, and the conflict has continued on and off for 30 years, including a resumption of hostilities in the fall of 2020. After the initial conflict in 1991, the Armenians gained control over most of it, and set up an autonomous republic. But no countries except Armenia recognize Nagorno-Karabakh (or the Republic of Artsakh, as its officially called) as an independent nation. 
     When we met with the American Ambassador to Armenia in Yerevan, he told us quietly that neither the USA nor any other countries would give Nagorno Karabakh diplomatic recognition. There are several other quasi-independent countries around the world, including Northern Cyprus (recognized only by Turkey), Western Sahara (claimed by Morocco), Trans-Dneistra (ethnic Russians living between Moldova and Ukraine), and the Caucasian breakaway "nations" of South Ossetia  and Abkhazia. 
     We flew in an old Russian military helicopter from Yerevan to the capital of Stepanakert. Frankly, we didn't know if we'd make it; not because of the possible military conflict below, but because of the age and condition of the helicopter. Nagorno Karabakh is a very poor region, and Stepanakert looked like it had been bombed and never rebuilt. We were told not to walk off the road for a good reason: there could be live land mines waiting to explode.
Sadly, the only decent paying job in Stepanakert was working for HALO, a Dutch non-profit organization. The occupation was to be a human mine detector! The army mine detectors were not accurate enough, so they had these people crawling through fields with long hand-held detection devices. We were told that through good training none of the people with that job had been killed, but I wouldn't want that job no matter what the pay.
Update: in late September, 2020, Azerbaijan attacked Nagorno-Karabakh. Armenia's army, supplied with Russian weapons, fought back. In six weeks, 5000 soldiers and 200 civilians were killed. The deciding factor was that Azerbaijan had military drones indicating where the Armenian soldiers were and inflicting serious damage. I've heard conflicting stories whether the drones were from Israel or Turkey. Regardless, they inflicted such harm on the Armenian military that the Prime Minister of Armenia agreed to a Moscow-brokered peace pact where Armenia ceded three significant areas of Nagorno-Karabakh. The people of Armenia were so upset that they protested and demanded the resignation of their Prime Minister.
President Joe Biden just officially recognized the Turkish genocide of the Armenian people 100 years ago.
Conclusion
     Some people of Armenia expressed to us their desire to be like another nation: Israel! Both countries are surrounded by hostile neighbors, both are small and have very little natural resources. Both are ancient kingdoms. But Israel has thrived, partly because of it borders on the Mediterranean Sea while Armenia is landlocked. Both have well-educated people, but many Armenians have emigrated elsewhere or work in Russia. Israel has produced an economic wonder and a strong military. Armenia has neither.
It was an amazing visit to a wonderful country. At the farewell dinner, in Armenian, I got up and said, "Yes Chay Am" ( "I am an Armenian").  I meant it.