Alexander Hamilton, the Broadway Hit, and the Jewish Connection
By Rich Juro
Was Hamilton, one of the founding fathers of our country, Jewish?
What was his scandalous upbringing?
Could Hamilton have been President of the USA?
Why was he shot and killed?
Why is his picture on the $10 bill?
Why Did "Hamilton" Become a Broadway Hit?


Alexander Hamilton, one of the great leaders of the new American Republic, is now the subject of a hit Broadway musical. As the show relates, Hamilton was born on the tiny Caribbean island of Nevis in 1755. His mother, Rachel Faucette, was an attractive, educated heiress of French Huguenot (Protestant) descent. Some have said that she also had Jewish or African ancestors, but those claims have never been substantiated. In 1745 she wed John Lavien (derived from Levine?) on the island of St. Croix, who was probably a Danish Jew. The marriage was a disaster. Lavien even charged her with committing "such errors which between husband and wife were indecent, and very suspicious". The young wife, having been found guilty of adultery twice, was imprisoned for several months.
Upon release, Rachel traveled to the island of Nevis, where she had property. There she met a Scotsman, James Hamilton, and they had two sons, James Jr. and Alexander. But Rachel never having been divorced, the two boys were considered illegitimate bastards. Therefore they were not allowed to attend the local Church of England school. What was young Alexander to do for an education?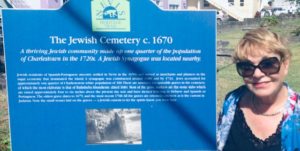 Nevis was one of several Caribbean islands that had a number of prosperous Sephardic Jewish families. Most had fled Spain or Portugal around 1492 for Brazil at the time of the Inquisition, and then went to the Caribbean when the Inquisition reached Brazil. They were sugar planters, merchants, or even slave traders. The Jewish community had a synagogue and school, and also a cemetery that you can still visit today. It is in Charlestown, the capital of Nevis, just a few blocks from the Hamilton home-museum.
The young Alexander, ineligible for the regular school, was instead sent to the Jewish day school. At a young age he learned to recite the 10 Commandments…in Hebrew! But hard luck was coming: James Hamilton deserted his family, and Alexander's mother died in 1768, leaving the 13 year old an orphan.
So, was Alexander Hamilton Jewish? NO. His mother's original husband may have been Jewish, but neither Hamilton's mother nor father was Jewish. And although his early education was in a Jewish school, he never practiced nor felt himself to be Jewish. He mainly was a deist, someone who sees God as standing outside of history. As to Jews, Hamilton admired them and asked for tolerance for them, recognizing the essential role they played in God's plan for humanity. "Progress of the Jews," he later wrote, "from their earliest history to the present time has been and is entirely out of the ordinary course of human affairs. Is it not then a fair conclusion that the cause is also an extraordinary one – in other words, that it is the effect of some great providential plan?"
Now back to Hamilton's story: young Alexander showed such intelligence and drive that some local citizens sent him to the United States to further his education. There he enrolled in King's College, which became Columbia University after the American Revolution.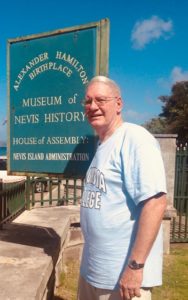 (Personal notes: As a graduate of Columbia, I was determined to visit the fine Hamilton house-museum when we cruised to the nation of St. Kitts and Nevis. After all, Hamilton was the most famous Columbian before Barack Obama. It was in Charlestown, Nevis, that we also found the old but well-maintained Jewish cemetery that sparked the research for this article. Also, Fran and I met at Hamilton Hall in Columbia University when she requested directions to a summer-school Spanish class. It was many, many years ago, but it was the first and last time she actually asked for and followed my directions.)
Hamilton joined the new American Revolutionary Army. Again, his insights and brilliance soon resulted in his promotion to George Washington's trusted aide. Washington so valued Hamilton would that the General would not let his adviser lead troops into battle. Finally, both Hamilton and another vital assistant, the Marquis de Lafayette, played key roles in the decisive and final Battle of Yorktown. After the War of Independence was won, Hamilton practiced law and married Elizabeth Schuyler, the daughter of a prominent New York State family.
In 1787 it was necessary to get the 13 states to approve the newly written Constitution. Hamilton was the chief author of "The Federalist", well-reasoned articles that led to the ratification of the document that governs us still. He recruited James Madison and John Jay, and writing under the pseudonym of "Publius" (one of the founders of the Roman Republic), they quickly wrote and published 85 essays supporting the adoption of our founding charter.  Hamilton was the lead writer of these editorials that resulted in our changing from a weak confederation to the strong UNITED States of America.
When George Washington was elected President in 1788, he chose Hamilton to be the first Secretary of the Treasury. At the time, the young Republic was in dire financial straits. Hamilton initiated several programs that resulted in a strong financial base: establishing a national bank, using one currency instead of multiple paper notes from different states and banks, having the Federal government assume the war debts of the individual states, and paying off war bonds at face value. These actions led to the establishment of credit for the young country; but they also led to a break with James Madison and with Secretary of State Thomas Jefferson, both of whom favored a less centralized national government. But historians agree that it was Hamilton's bold strokes that put the new country on a firm economic footing. Again, for a second reason, it's been said that Alexander Hamilton made us the UNITED States of America.
Could Hamilton have become President even though he was born in the West Indies? Yes, because one qualifies for President if born in US territory OR if one was a citizen at the time of the adoption of the Constitution on September 17, 1787, and Hamilton had become a citizen before that date. However, he was never seriously considered as a Presidential candidate. His forthright talk and controversial policies had created enemies, both among fellow-Federalists like the second President, John Adams, and the states-rights Democrats like Jefferson and Madison. In addition, Hamilton's extra-marital affair was publicized by scandal-seeking newspapers.
The Presidential election of 1800 resulted in a technical tie between Thomas Jefferson and Aaron Burr, even though Burr was supposedly running for Vice President. Although Hamilton was vehemently opposed to Jefferson's policies, he had always despised the person and vacillating politics of Aaron Burr even more. So Hamilton changed his electoral vote, which resulted in Jefferson becoming our third President. The hatred continued between Burr and Hamilton, ultimately resulting in a duel between them on July 12, 1804. Hamilton was shot and killed.
Alexander Hamilton's picture has appeared on the US $10 bill since 1861. As the first Secretary of the Treasury he saved our country's economy, so appropriately the US Treasury building appears on the other side of the note. A couple of years ago,  Hamilton's image was considered to be replaced by that of a woman "to be determined". It seems unfair to this writer to remove the portrait of a man who achieved so much that he is always referred to as a "founding father". If we are to change anyone, wouldn't it be better to remove Andrew Jackson from the $20 bill? Jackson's main accomplishment was driving the American Indians from their lawful lands and killing as many of them as he could.
Now there is a new tribute to Hamilton. Tony-award winning songwriter Lin-Manuel Miranda has written and starred in the hit Broadway musical "Hamilton", about his life and work. The story faithfully follows the acclaimed biography of Hamilton by Ron Chernow, but the music is mostly in hip-hop and rap. Miranda, of Puerto Rican descent, usually portrayed Hamilton in the original production. The cast, including the character of George Washington, is primarily actors of color. It has become probably the most acclaimed musical of our time.

Finally, reporter Trish Regan has suggested that were he alive today, Hamilton might be the one to solve the Eurozone economic crisis. After all, Hamilton got states like Virginia, which had paid off their Revolutionary War debts, to agree that the Federal Government should take over the debts of states like Massachusetts. Ms. Regan states, "It was the Colonial America equivalent of getting Germany to assume the debts of Greece." My suggestion: if Europe solves its problems by following the principles set down by Alexander Hamilton, then it would be very appropriate to place Hamilton's picture on the 10 Euro note. Now that would be a happy ending.